| | | |
| --- | --- | --- |
| | | |
Tenth International Conference on Chronic Myeloid Leukemia
Welcome Message
ESH Disclaimer: Viewers are advised that one or more presentations may contain references to off-label or unapproved uses of drugs or devices. Participants should note that the use of these agents outside current approved labeling is considered experimental and are advised to consult prescribing information for these products.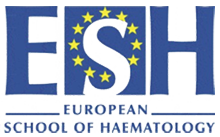 International Conference CHRONIC MYELOID LEUKEMIA –
Biological Basis of Therapy
Organizers: J.M. Goldman and J. Cortes
Co-Organizers:
A.M. Carella, G. Daley, C. Gambacorti, F. Guilhot, R. Hehlmann, T. Holyoake,
M. Horowitz, T. Hughes, J.V. Melo, G. Saglio, C. Schiffer, P. Valent, R. Van Etten
5 - 7 September, 2008 - Boston, USA
Dear Colleague,
ESH very proud to announce the launch of the webcasting and podcasting of selected talks of the 10th International Conference on Chronic Myeloid Leukemia held in Boston, USA, on the 5th - 7th of September 2008.
As an interested health care professional, you now have the possibility of viewing selected presentations online via the ESH Website www.esh.org. If you do not have a username and password yet, you may REGISTER to access the webcast.
Once you have registered, please click on LISTING OF PRESENTATIONS, you can browse all presentations by session, speaker, video podcast and PowerPoint presentations shared.
Webcasts include full multimedia presentations (laser pointer movements of the speakers, PowerPoint animations, embedded video files) as well as the possibility to download PowerPoint slides for selected sessions!
If you have any difficulties accessing this webcast, please contact the European School of Haematology

We would like to thank all speakers for their valuable support in making this webcast possible.
Best regards,
Prof. John M. Goldman and Prof. Jorge Cortes
Chairs, ESH 10th International Conference on CML
Supported by unrestricted educational grants from:

ESH principal Institutional Partner



And


Disclaimer AMENDED ON January 29, 2009 | Technical Support


USER ACKNOWLEDGES AND AGREES THAT ALL DECISIONS MADE WITH THE ASSISTANCE OR USE OF THE SOFTWARE AND/OR THE WEBSITE AND/OR BASED ON CONTENT FOUND HEREIN WILL BE EXCLUSIVELY THE RESPONSIBILITY OF THE USER.
Powered by MULTIWEBCAST Technologies. MULTIWEBCAST PLATFORM Version 4.1000. All rights reserved.